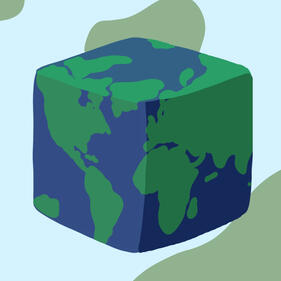 ice-breaker
Ice-breaker is a climate change podcast hosted by Anya Bansal, a student who is passionate about environmental justice, which aims to educate people in a fun and informative manner. We've reached over 1,000 total plays from listeners in over 19 countries! Contact Ice-breaker through email or Instagram for any questions + comments, and thanks for listening!
listen to the podcast here!
past/current initiatives!
Covalence Global x Ice-breaker
we partnered with Covalence Global to host a 3-day Youth Climate Change Conference (YCCC 2022) that encourages participants and presenters to meet the climate change challenges of their time, reaching 93 registrants! we featured 4 spotlight speakers, 6 workshops, and hosted a film screening of Chasing Coral, with 2-2.5 hours of live engagement & discussion per day from participants around the globe!Unfortunately, workshops & the film screening are not available on the recordings.August 12th, 2022 - August 14th, 2022
Ice-breaker x Image by Yashi
we partnered with Image By Yashi, a small jewelry business on Etsy, to fundraise money for various environmental organizations by selling rings, necklaces, downloadables, etc.!July 2nd, 2022 - July 25th, 2022
Girl Up 2030 x Ice-breaker
we partnered with Girl Up 2030 to do a podcast episode & an Instagram takeover! you can check out our episode on any listening platform and our instagram highlight below!July 6th, 2022
become a guest speaker!
we are always looking for potential guest speakers to talk about their expertise & interests! check out the form below for more info! DM us on Instagram at @icebreaker.podcast for questions/info.
instagram guides
check out our Instagram guides for additional information gathered in one place!
Anya Bansal, the founder & host of Ice-breaker, has worked with and is affiliated with a myriad of environmental organizations (for more details about the organizations, please check the button detailed "personal" above). Please note that this does not mean that these organizations are directly affiliated or in partnership with Ice-breaker podcast.To provide more insight into her experience within the sustainability movement (also found in greater detail on her LinkedIn, provided on the above link - "personal"), we have listed her roles below:
EarthEcho International - Youth Leadership Council Member (serving on the 2022 term) (current)

New Jersey Student Sustainability Coalition (NJSSC) - Water Coordinator (current)

Environmental Education Fund - Paid Intern (current)

Green2Go - Social Media Volunteer (current)

Montclair University Clean Energy and Sustainability Analytics Center (CESAC) - Research Intern (past)